My Dog Would Have Died If Not For This Test
Lisa Blaurock | | 0 comments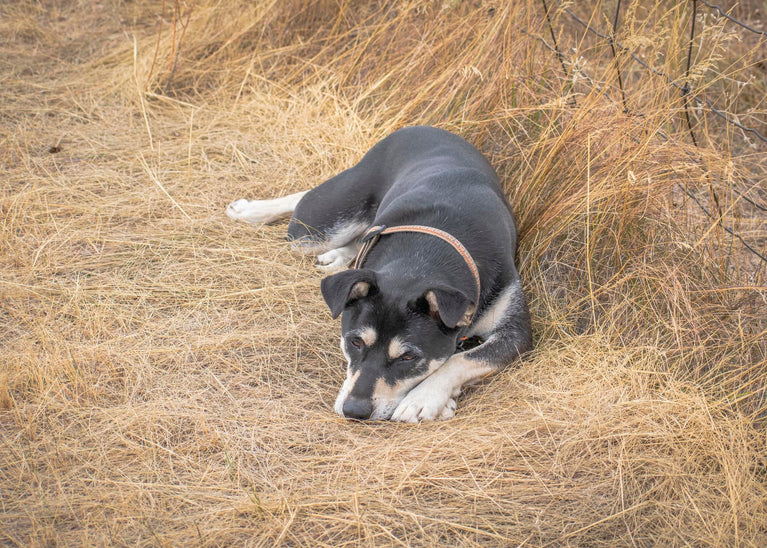 Protecting your dog from toxic blue green algae without expensive equipment is the key to confidently allowing your dog to play and swim in natural bodies of water and it's only attainable through the 5Strands rapid BlueGreen Test.
Hi, I'm Lisa Blaurock.
I will fully introduce myself in a moment. But right now, I want you to see what my dog is looking at.
It is the 5Strands BlueGreen Test. The fastest and easiest way to determine if a body of water is safe for you and your dog without expensive lab equipment.
And the best part is, the results can help you save the life of not only your loved ones, but also others in the community. Overall, it helps uncover underlying dangers in lakes, reservoirs, ponds, rivers, and other water sources.
Sadly, many dogs die every year from unknown causes while swimming. Recent studies have identified the cause of these early deaths, and the culprit is cyanobacteria - commonly referred to as blue-green algae. People can also experience extreme illness from this bacteria. Painful symptoms such as skin irritation, nausea, vomiting, and diarrhea can all be traced to algae poisoning.
For those who have lost their dogs to algae poisoning, it wasn't their fault. This toxic water crisis is not widely known. Even if you have heard about blue green algae, it can be difficult to know for certain if it is present in the water. 
That is where 5Strands' BlueGreen Test comes in. It's changed the game for pet owners and people who enjoy swimming in lakes, ponds, and rivers.
Local officials are largely unaware of the issue. Even when they do become aware, the typical response is to send someone out in a few days to collect a sample, take it to a laboratory, run tests, develop a response plan, then maybe put up some signs around the water source. Overall, the response is lackadaisical and doesn't have the necessary sense of urgency to protect lives that are at risk. The reality is, you don't need to wait for local officials to get the answers you need. 
And those answers are important for the safety of your dog. A recent study published in the National Library of Medicine states that poisoning by blue-green algae occurs after an algal "bloom" is caused by warm weather and algal concentration. The algae releases liver toxins and neurotoxins which can result in fast death especially in animals like dogs. 
This is an important issue to me as there are few things in this world that I love more than my dog Zeus. I consider him my best friend. Zeus has always been an active dog and loves swimming in pools, oceans, lakes, ponds, and rivers. After a fun day of swimming in the lake, I saw a news report about multiple dogs dying from toxic algae found in bodies of water close to my home. I was disturbed and sad for these dog owners who lost their precious pets. I was also agitated that there wasn't a good solution to prevent these deaths, so I decided to do something about it. 
I dedicated myself to creating a simple and effective way to determine if the water near my house was safe for Zeus to swim in. As his owner, it was my duty to know. I consulted with experts and conducted thousands of hours of research to develop a test that is easy-to-use, fast, accurate, and most importantly, provides answers. After years of grueling tests, it worked!
Now, people all across the world are using the 5Strands BlueGreen Test to identify potential toxins in their local water. These answers have given them peace of mind knowing that it is safe for their dogs and family to swim without risk of algae poisoning. 
What makes 5Strands superior to other alternatives is the fact that it is the world's first rapid diagnostic test to detect a broad range of hepatotoxins on-site. This means that you don't have to make a trip to a lab and wait days for the results - everything is done right there on the spot. 
It's a simple four step process. First, fill the provided sample container with water. Then simply leave the container to stand for 10 minutes. A chemical reaction will occur, heating up the container. Step three is to use the included pipette to place one drop of water into the provided analysis slide's aperture. Lastly, you'll have your results! One line at C means no blue-green algae toxins were detected. Two lines means that blue-green algae was detected. The entire process takes only 15 minutes with instant results. 
If you're wondering about the science, the 5Strands BlueGreen Test utilizes a single step, sandwich type, non-competitive immunocomplex assay method, using combinations of antibodies to detect molecular structures present in all common microcystins and nodularins. This combination enables the kit to detect 11 commonly-occurring hepatotoxins in a single test and can detect levels below 0.1 µg/L. 
What makes 5Strands unique is the single-step in vitro approach which takes just minutes to process with immediate, sensitive and indicative results. Results are directly indicative of the current state of the tested water body, as the test can be carried out directly at the source. In addition to illustrating positive or negative readings via visual detection by naked eye, the test results also indicate the concentration of detected cyanotoxins in the water. This is shown through the strength of the developed test line being directly proportional to an increase in cyanotoxin concentrations.
But don't simply take my word for it. Check out these reviews from real users:
⭐​​⭐⭐⭐⭐ - Chester D. (Verified Purchase)
After all the cyanotoxin scares brought out by governmental agencies. To my surprise, none of them actually test. This test allows for a little peace of mind and risk reduction for pets and water sports.
⭐​​⭐⭐⭐⭐ - G. Gilmore (Verified Purchase)
The 5Strands BlueGreen Test provides additional piece of mind to periodically test our pond to keep people and pups safe while swimming.
⭐​​⭐⭐⭐⭐ - Tom B. (Verified Purchase)
A colorful algae bloom caused our concern. Test kit performed as advertised. Happy to say there were no problems. Just turned out to be healthy string algae. This test is great for peace of mind.
You know how deadly blue-green algae is and the true danger it presents. My bet is, you've heard similar stories of dogs and people either dying or becoming seriously ill due to bacteria in the water. But you've seen the results and reviews from real people who've taken the step as responsible pet owners to test the water for the safety of their loved ones. 
Now it's time for a decision. There are 3 options:
Option 1: Do absolutely nothing and push it off down the road.
Hopefully nothing catastrophic happens and you don't suffer irreplaceable loss.
But if you'd like to address the issue before it's too late, you have two options…
Option 2: Continue eyeballing and crossing your fingers
Watching for suspicious colors and strange consistencies in the water is an option.

But as you know, it's impossible to know for sure by simply looking closely at the water with your naked eye.
Option 3: Give 5Strands a try.
I've done the research, worked with the experts, and found a proven way to confirm if toxic blue-green algae is present in the water.
It does not require expensive equipment, multiple laboratory trips, or a large wait time.
Of the three options, what's going to be easier for you?
In this world, there are two types of people. Those who continue to not take threats seriously and put the ones they love at risk, and those who identify likely dangers and take steps to mitigate them.
The majority of people will say that protecting their dogs and family is important, but we both know few actually take proactive action.
It's the classic tale of the woeful and the willful.
Blue-green algae is something most people will ignore, while the few who are actually serious about safety will realize the risk is too great and take initiative. 
Since you've read this far, I think you're one of the few, special ones.
If I'm right and you're still with me, make the decision to protect the lives that depend on you. The pain of losing someone you care about is not worth it. Click the button below for more information about the 5Strands BlueGreen Test and get one today.
---