Feeling Melan-Collie? Just Pug-Get About It!
Austin Collins | | 0 comments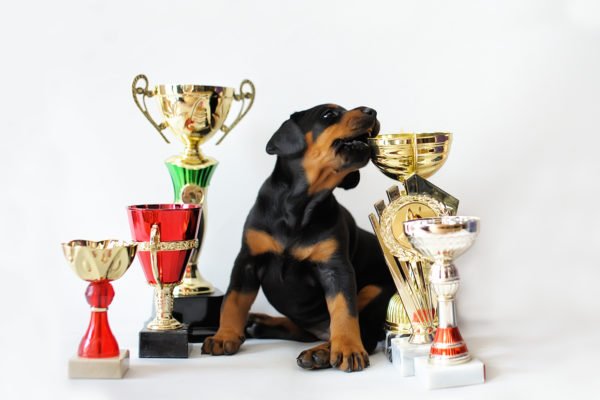 I don't know about you but anytime someone talks about dog shows I immediately think about one of the best dog movies of all time: Best In Show. It is because of this movie that every time I see a bloodhound I blurt out "How you doin', hound doggy?" in my best ventriloquist impression. If you haven't seen the movie yet, I suggest you do so before The National Dog Show Presented by Purina airs this coming weekend of November 16-17th on NBC. You may find some difficulty discerning between the movie and real life! 
Earlier this year, Purina conducted a survey of pet owners to generate a list of the fifty most popular dog breeds in America. I am not going to cover all fifty breeds and their rankings in this article, but I would love to point out which breeds were found on the list. 
Ranked at the 50th most popular breed in America is the Bloodhound! "How you doin', hound doggy?" Okay, I'll stop. The Bloodhound is descended from European (Belgium, UK, France, Scotland, and England) hounds and were originally bred for hunting. Starting in the Middle Ages, Bloodhounds were employed to track people by scent. A secret to their strong sense of smell? Their extra skin folds help trap scents from the ground up to their noses! 
Another very intelligent and active dog is the Collie, which is ranked as the 40th most popular breed in America. There are two types of collies out there; the smooth coat and the rough coat (think Lassie). Collies are known for their high intelligence levels, but did you know that we can trace the lineage of modern collies back to one dog? Now you know.
I know I made an assumption that you would be familiar with all the dogs that made the top 50 list. However, this breed may be one of the few that you haven't heard of or met before. The 30th most popular breed is the Vizsla. They look like a golden version of Weimaraners, if that helps. These tan, short coated, and sporty dogs are descended from dogs in the Austro-Hungarian empire. Vizsla typically become very attached to chosen individuals.
This next breed, ranked at the 20th position on the list, surprised me. Being surrounded by dogs all the time, I would have guessed that Shih Tzu would be higher up on the list. I suppose my point of view would be biased working in grooming facilities, since they need that regular maintenance. The name Shih Tzu means "little lion," and actually originated in Tibet (not to be confused with Tibetan Terriers, but you can see the similarities between them). In my experience, most Shih Tzus have wonderful and funny personalities, with very expressive faces.
Number 10 on the list is the German Shorthaired Pointer; yet another very smart breed often employed for hunting. GSP are great bomb sniffing dogs as well, just as the US Air Force, who utilizes their skills. This breed is a result of a combination of multiple breeds. It is difficult to pinpoint the exact lineage, but it is believed that they originally derived from a German bird dog. Other breeds believed to have contributed to the GSP include the Spanish pointer, English pointer, the Dalmatian, the Weimaraner, the tracking hound, and the Vizsla. That's a pretty impressive heritage!
I think we can all agree that the top 5 breeds have definitely earned their positions. Coming in at number 5 is the English Bulldog. We've all seen the videos of bulldogs riding on skateboards, but the origins of this breed are a bit more gruesome. They were bred for bull baiting in the UK from 1206-1835. Being low to the ground gave these dogs an advantage at grabbing the bull's snout. Many dogs were injured or killed while this sport was still legal. Once it became illegal, however, the Bulldog almost faced extinction. In more modern times, bulldogs are great for apartment living and require little exercise.
There's no better breed to follow up the Bulldog with than the French Bulldog, at number 4. Also, very popular in city settings due to their small size and low energy temperament. This breed actually originated in England, and were bred as companion animals. Created out of the Bulldog breed, the sole reason for the French Bulldog is to love us! They make wonderful babysitters and are actually very sensitive to the way humans speak to them (i.e. criticism vs upbeat tones). If you plan on taking your Frenchies out on the lake with you, make you to equip them with life vests, because this breed cannot swim.
For years, Golden Retrievers have been consistently ranked in the top popular breeds and this time around is no different. At number 3, this breed has a reputation for being family-friendly pups and natural athletes. Golden Retrievers are well-rounded dogs, being great companions, hunting partners, travelers, and swimmers. They are able to adapt to any adventures their human counterparts take them on!
Growing up with a former police officer, my father insisted that the only dog we would have in our family was the German Shepherd. Ranking as the 2nd most popular breed in America, this breed is known for their intelligence, loyalty, protection, and playfulness. When I was young and both of my parents worked, I would often go home from school to my favorite babysitter; our German Shepherd, Roxie. I always knew I would be safe with her. World War I brought this breed West from Germany, and are dedicated workers. Depending on the region they were bred in, there are five different types of German Shepherds; each having their own body structure and coat conditions.
This leaves us with the number 1 most popular dog breed in America. By process of elimination, I'm sure you've figured out by now that this position goes to the Labrador Retriever. The original purpose for breeding this dog was for fishing. Most labs love swimming so this shouldn't come as a shock to anyone. They are typically very fast dogs, with very happy personalities. They live to make us humans happy. Perhaps this contributes to their long lives that Labrador Retrievers often reach. In fact, the oldest recorded Labrador Retriever was 29 years old. Great with families and highly adaptable, we could all learn the key to happiness from Labradors!
Like I said, these breeds are already familiar to most of us. As much as I love all the different breeds out there, the thing I look forward to most when it comes to The National Dog Show is the more rarely seen breeds out there. The dogs shown have worked their way up to this competition in the name of their breeds. I skimmed through the full list of the breeds that we will see in the upcoming dog show, and have selected five that I think are uniquely beautiful.
The first on my list is the Xoloitzcuintli, or Xolo for short. If you can pronounce that without looking it up please send audio clips. The Xolo is also known as the Mexican Hairless Dog. Yep, hairless. If you're thinking of a Chinese Crested in comparison, the Xolo has even less hair! They were bred for hunting, and require application of sunscreen outside. Like most hairless breeds of animals, they typically also have specific bathing needs. 
I also want you all to keep an eye out for Dandie Dinmont Terrier. Just saying that breed aloud will most likely make you smile, but once you see one you will definitely smile. Another hunting breed (primarily otters and badgers), Dandie Dinmonts look like a combination of a Bichon Frise and a Corgi, with some Schnauzer sprinkled in there somewhere. They are great companion animals, but are typically not pack dogs so they prefer people over other dogs.
I've been told stories in my family about the next type of dog I want to point out. I'm combining the Puli and Komondor into the same category here, only because they are both known for their high-maintenance dreadlocks (corded hair). The Puli is smaller and bred as a herding dog, while the Komondor is larger and employed as a livestock protector. My great-grandmother has a Puli, so my mother has told me about how much work it was keeping up with their grooming needs.
Cirneco dell'Etna is the next breed you should all look up. This is one of the world's oldest dog breeds; with an Italian name and very Eqyptian-style look. It is believed that these dogs were brought from Northern Africa to the Mediterranean by the Phoenicians. There is Sicilian currency from the 5th and 2nd centuries that depict the Cirneco on coins. The Cirneco is a breed that has survived purely from natural selection. Everything about this breed intrigues me.
Finally, the last dog breed I'm going to discuss is the Leonberger. If Shih Tzu means "little lion," then Leonberger has to mean "big cat," according to my own opinion. These massive dogs can be very intimidating, but are usually big sensitive pups. They have a lot of talents, including great therapy dogs, as well as search and rescue dogs. They originated in Germany, and almost became extinct due to World War I. The revival of the Leonberger is credited to two breeders who managed to find the last remaining 25 dogs, of which only 5 were able to reproduce. Another impressive background story!
Well, there you have it. I've given you plenty of information about a number of dog breeds, as well as a lot of homework for you all. So, while you're watching Best In Show you can get your phone out and start searching google for pictures and facts about the above breeds, before The National Dog Show airs. While, I don't typically encourage paying such high prices from breeders because there are thousands of homeless animals in shelters, if you have a purebred dog you know that they can be susceptible to health issues. If you think your dog is dealing with food or environmental sensitivities, we specialize in hair analysis testing at 5 Strands Affordable Testing. We also have tests that help determine nutritional deficiencies, metals and minerals tests. All we need is a hair sample to test and you will get answers.
I look forward to viewing The National Dog Show next weekend with you all!
We just released a Pet Treat Test that tests for over 60 items. Check it out: https://www.5strands.com/product/affordable-pet-treat-test-50/
---